Bodeguilla de
San Roque
Sometime back in the autumn of 1986, St. Roque himself, the eternal wanderer accompanied by his faithful, tail-less dog, arrived in the ancient and ever-welcoming city of Compostela. Weary from his travels through far-flung lands along rocky roads, he found a warm welcome, hearty sustenance and a chance to rest his feet beneath the sign that read La Bodeguilla, at that time a recently-opened tavern in the traditional neighborhood that now bears his name. As he finally prepared to set off through the streets of Compostela, his stomach full and the tribulations of the way forgotten, he reached down to stroke his faithful canine companion and wished health and prosperity to his warm-heated hosts at the tavern, suggesting that his name be included on the sign hanging over the door. Since then, this emblematic hostelry in Compostela has been known as the Bodeguilla de San Roque.
The tavern holds a place of honor amongst the noble stones of Compostela, close to the distinguished buildings that house the Galician Center for Contemporary Art, the monastery of Santa Clara and the slope of Costa das Rodas, a neighborhood that offers visitors and locals alike the opportunity to enjoy the finest products from the region: traditional home cooking, Iberian hams and sausages, cheeses, seasonal delicacies and the finest wines. But above all, the crowning glory of the Bodeguilla de San Roque is the opportunity to enjoy chatting after a great meal in friendly surroundings, perhaps one of the most pleasurable activities imaginable. All of those who visit this historic establishment come away with a lasting impression of the great beauty of this region, a memory based, above all, on its gastronomic delights.
Latest news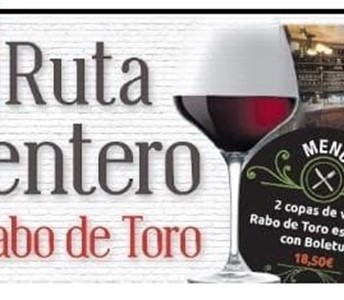 3ª RUTA SENTERO Y EL RABO DE TORO
Participamos na "3ª Ruta Sentero y el Rabo de Toro" e "Concurso del mejor Rabo de Toro de España", pide o teu  "Estofado de Rabo de Toro con Boletus" acompañado de 2 copas de Sentero Expresión e participa nun sorteo de 10 caixas de 6 botellas de Sentero Roble, D.O. Toro
Do you want to book a table in Bodeguilla
de San Roque

?
Address: San Roque, 13 - Santiago de Compostela
Phone: 981 564 379
Hours:Monday to Friday from 09:00 to 00:30. Saturdays, Sundays and holidays from 10:00 a.m. to 4:00 p.m. and from 7:00 p.m. to 00:30 p.m.