Bodeguilla de
Santa Marta
Inaugurated on September 19, 2012, born with the illusion and always eager to innovate the third Bodeguilla of Santiago, together with Bodeguilla de San Roque and Bodeguilla de San Lázaro.
The Bodeguilla de Santa Marta, located on Avenida da Liberdade, in the neighborhood of Santa Marta near Hospital Clinico and way to Milladoiro, has similar characteristics to the two previous cellars, but with a point of its own personality that is reflected in the decoration minimalist and elegant.
They emphasize the very varied wine list and the quality of the products that so define the Bodeguillas. Without a doubt, the best options to spend an evening more than pleasant between friends, couple or family.
Latest news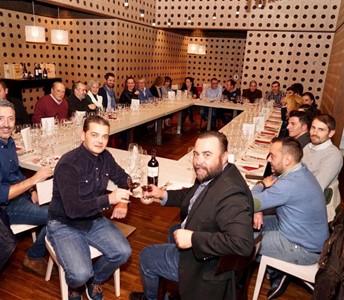 Tertulias Bodeguilla con... Vicente Almodóvar & Bodegas Muga
As nosas Tertulias Bodeguilla trasladáronse nesta ocasión ata a Bodeguilla de Santa Marta para celebrar unha cata didáctica con cea grazas a Bodegas Muga e Vicente Almodóvar. Comezamos cuns mexillóns en salsa verde ao aroma de cava acompañados con Cava Conde de Hari, brut vintage. Pola súa banda, un Muga Crianza 2016 acompañou a un timbal de tomate da horta con láminas de bacallau e salsa tártara. Finalmente, arroz negro, polo de corral e ragout de xabarín foron os pratos principais acompañados de caldos coma Muga Reserva Selección Especial 205, Prado Enea Gran Reserva 2011 e Torre Muga 2016.
Tertulias Bodeguilla con... Viktoriya Bryksa & Grupo Pernod Ricard
Coa chegada do mes de setembro, retomamos as nosas actividades culturais. Para esta primeira Tertulias Bodeguilla cambiamos de lugar e nesta ocasión acudimos á Bodeguilla de Santa Marta. 

Nesta "Cata didáctica con Cea", Diego García máis o seu equipo de cociña de Bodeguilla de Santa Marta elaboran unhas tapas para acompañar os viños que ven a presentarnos Viktoriya Bryksa, sumiller e Wine Ambassador do Grupo Pernod Ricard, viños que veñen dende Marlborough en Nueva Zelanda, Sonoma County en California, Rioja e Ribera del Duero en España e tamén un Ron Cubano moi especial. 
Do you want to book a table in Bodeguilla
de Santa Marta?
Address: Avda. da Liberdade, 11 - Santiago de Compostela
Phone: 981 813 520
Hours: lunes a sábado de 9:00 a 00:30 h.
Domingo de 10:30 a 16:00 h.